Welcome to The Lone Gunmen Wiki!
In association with
Appearances on X-Files
Appearing on X-Files episodes, the Gunmen have become fan favorites, even getting their own T-shirts. They also appeared prominently in episodes written by acclaimed science fiction authors William Gibson and Tom Maddox. One or all of the Gunmen appeared in the following X-Files episodes, as well as all episodes of The Lone Gunmen. All three characters died in the X-Files episode "Jump the Shark", which aired the year after The Lone Gunmen series was cancelled.
See X-Files appearances for a complete list of episodes that the Gunmen appear on.
Influence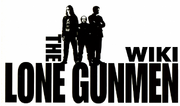 Since becoming X-Files mainstays, Gunmen-styled technogeeks have appeared on other television series, such as Brian Roedecker on Millennium and Abby Sciuto on NCIS. Similar characters have appeared in many genre series: the Trio, a group of geeky would-be villains in season six of Buffy the Vampire Slayer and a pair of nerdy "paranormal investigator" bloggers who appear in the first season "Hell House" and third-season episode "Ghostfacers!" of the show Supernatural, while Invasion featured Dave, a rather Frohike-esque blogger journalist who was determined to bring the truth about alien "hybrids" to the world. On the FX series Terriers, the main characters repeatedly utilized the services of a tech-savvy trio who operated out of an RV and were especially skilled in surveillance and computer hacking.